"Too soon for you to be back here" said the undertaker as she swung the big black archway doors open. She was right.
My Dad passed away whilst swimming in the sea at Salterstown, County Louth on a beautiful summers day. As a child I always worried that something would happen to my Dad. I remember lying in bed waiting for the back gate to slide open, the noise of the lock meaning that he had returned from a late-night match at the tennis club.
As I grew older these fears receded, replaced with different worries for the health of my mother. My Dad seemed to become invulnerable, taking many knocks and challenges in his stride. Tragically, this invulnerability did not last.
Margaret Roddy did a wonderful piece on my Dad's life for the local paper. You can read it here: LINK and you can see more of his art and inspiration on his Instagram page: LINK
For anyone wanting a glimpse of my Dad's quick wit and humor, I recommend this exchange during an Irish Open golf tournament a few years back. It is better to watch the video rather than for me to explain it: LINK
If you have a memory or story regarding my father we would love to read it too - LINK
I am sharing here the remarks I made at the funeral. An effort to sum up a great life and a great person.
---
Hello everyone and thank you for coming.
I want to start off by thanking a number of people and groups who have helped us out over the past few days. The comments and support from our neighbours in Seatown Place, the folks from the Ravensdale Country Market, the tennis clubs, Louth County Library, the golf clubs, O Fiach College, Creative Spark, Bridge St Studios, St. Vincent's, people from my work at Bloomberg Línea, connections in Sligo, Dundalk Young Irelands, the Marist and many, many more. It is all very much appreciated. My Dad had immersed himself in Dundalk, I think the town itself will miss his presence.
I also want to thank the people who were there in Salterstown on Wednesday for all they did for my Dad. It means a lot to know that he was cared for.
Also, I'd like to thank all the support from both sides my own family and from my sister's partner Daniel and his family.
Now, if you will excuse the Spanish for a second:
También quiero mandar un saludo a todos que están viendo desde Chile y América entera y agradecerles mucho el apoyo. También un gracias especial para mi novia Cristina y su familia quienes me han apoyado muchísimo en estos días.
I think we all know that my Dad would have had some joke to make about that.
Around 18 months ago I stood here with my dad and my sister for my mother's funeral. The church was far emptier than it is today but we gave my mother a good send off. I had only one real regret from that funeral.
My Dad took the time to stand here and give thanks to the many people who helped my mother over the years. The list was easily 50 names long yet he didn't mention himself. As we were moving back to the seats, I had the idea to come back to the stand here and thank him on behalf of my mother, my sister and I but the moment had passed.
I wanted to mention this point as it highlights one of the true standout aspects of my Dad's character. An incredible selflessness. The level of dedication and care he showed to my mother was above and beyond what was expected, and I don't think everyone was aware of just what that entailed. As I grow older I realize just what a sacrifice it was and I see now my Dad did it all with a smile. Really just incredible.
If I wanted I could speak for hours about my Dad's life. He did so many things and was always on the go. Always around town on the bike or up to the Home Bakery or up to Country Fresh or down to the library to get a few books. I hope to just touch on a few other elements of what made John – John.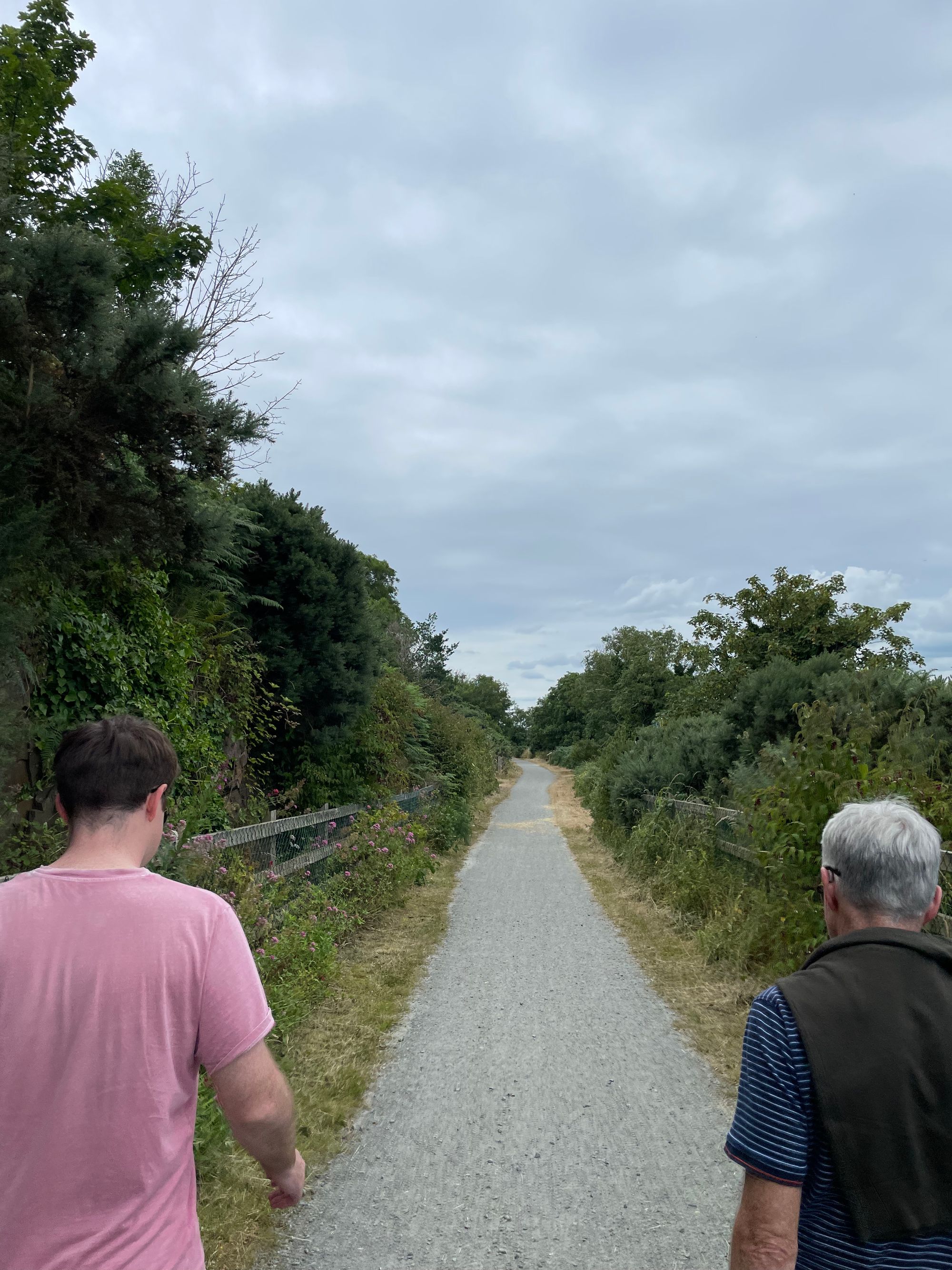 My Dad was an interesting character. A rare mix of both a talented artist and a talented sportsman. Now, with all due respect to the artists among us, I have yet to meet another artist who could drive a golf ball like my dad.
He moved easily between many circles, producing artworks inspired by Ummeryroe, Sligo his spiritual home and at the same time competing for Louth Opens, Captain's Prizes and getting a 20 minute run most days of the week. All this whilst caring for my mother.  Many of you here have a painting of his in your homes. I hope that you will keep enjoying these works for years to come.
I know that there are many in the artist community who will miss him dearly. There were many meetings of the minds in our kitchen over the years. I remember a lot of laughter and great conversation.
Personally, I was always better able to understand my Dad the sportsman. He introduced me to tennis, golf, soccer, football and always supported my different teams growing up. I was lucky to have such support.  He coached too, both at Dundalk Tennis Club and also had the bravery to take tennis to O Fiach College, bringing more people to the game.
One of the things I admired about my Dad when I was growing up was just how good he was at sports, he really could hit the ball. He loved the Tennis Club, was always courteous on the court but was also capable of stewing over a bad game for several days afterwards. So much so that my mother would send him out for a run to clear his head.
St Helena's Park is another place that will miss his presence. His running spot for many years.
Golf was something that my Dad really took to over the past year, playing at both Blackrock and Baltray. The latter I think you could call his second favourite place on earth, after Sligo of course. I am grateful that I got to play so much golf with him last summer and this year just a few weeks ago.
I could go on and on with stories and praise for my Dad. I think that is obvious how much he will be missed by many people, none more so than my sister and I. We had so many plans for the next few years that this cruel twist of fate has taken away from us.
To finish up I would like to speak about the afterlife. Not in the spiritual sense but rather the afterlife that we, the living, can give to my Dad by remembering him. I am clear on how I will keep his memory alive, from now on picking up a tennis racket or golf club will always have an extra weight for me.
But I would like to ask of you all the following favour:
To the artists, the next time you mix a vibrant shade of blue or green.
To the folks from Ravensdale market, the next time you have a nice cup of tea on a Saturday.
To the swimmers, the next time you have a refreshing dip.
To the golfers, the next time you hit a nice high powerful drive out on the course.
To the tennis players, the next time you hit a good strong forehand down the line.
And to the runners, the next time you have a nice run in the rain.
Just pause for a second and think how much John O'Connor would have enjoyed that.
Amen.